We just can't talk about Macedonian cuisine without mentioning the Tavce Gravce Recipe (pronounce: tav-cheh grav-cheh). It's Macedonia's national dish and a standard Friday staple; most Macedonians are Orthodox Christian and in Orthodox Christianity, the meals on Fridays should not contain any meat. That's why Tavce Gravce holds such an important place not only in Macedonian cuisine but also in Macedonian culture. In this article, we'll show you how to prepare this delicious Macedonian culinary masterpiece. After all, who can teach you how to make it better than a local?
Let's start from the beginning!
What is Tavce Gravce?
The closest equivalent from the English dictionary is white bean casserole but tavce gravce is so much better. Tavce Gravce is basically white kidney beans baked on a Tava (local skillet) mixed with other vegetables. The basic ingredient for tavce gravce are obviously, white beans but the dish includes a lot of other vegetables too, and optionally sausage or pork ribs on the side. It's a great winter food, comfort food, and it's a great choice for vegans and vegetarians (if you choose to prepare it without meat). However, if you're planning to order this in a restaurant but you're vegetarian/vegan, make sure to check how it's served before ordering.
How to Make Tavce Gravce?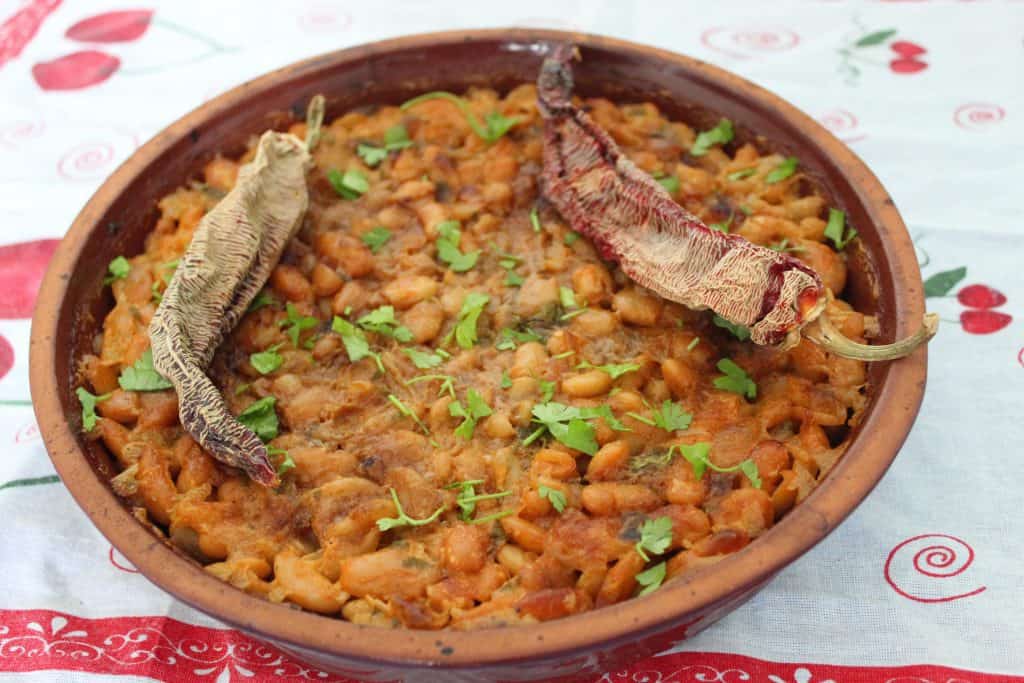 The traditional preparation method includes three steps. The first one is soaking the beans in water overnight. However, if you don't have this much time, soaking for 2-3 hours should be enough. The next step includes boiling the beans along with the other vegetables for 2-3 hours on medium heat. After the food is boiled, the mix is poured in a Tava (local iron skillet) and cooked on a wooden oven for 2 more hours until the mix is not liquid anymore. For detailed step-by-step instruction, check out the full recipe below!
History of Tavce Gravce
As we mentioned above, Tavce Gravce is the national dish of Macedonia that dates back to the 15th century. It quickly became popular among Macedonians as a dish eaten on Friday or for the Nativity and Great Lent fasts. In fact, don't be surprised if you see a lot of Macedonian families consuming Tavce Gravce every Friday even today.
Traditionally, the dish is prepared with beans from Tetovo that are renowned as some of the finest beans on the Balkan Peninsula and if you ask locals, they'll tell you that nothing beats the grav (beans) from Tetovo.
The traditional Tavce Gravce recipe included baking the beans on a wooden oven and even though this adds a special flavor to the dish, the recipe has been altered to suit modern people's needs (and their limited time). As you could see above, the traditional way of preparing Tavce Gravce can take a whole day! You can significantly decrease the preparation time if you use canned beans but don't expect the taste to be the same!
How to Serve Tavce Gravce
The traditional Tavce Gravce recipe culminates by serving it in a clay dish. I know this might come strange, but trust me, not only does this plate give a pleasingly rustic appearance but it also makes this delicious dish even tastier! Unless it's Friday, most Macedonians eat Tavce Gravce with sausage, pork ribs, sarma, zelnik, or pleskavica (maybe with some ajvar on the side) but you can eat it straight up with some white bread or kifli if you're a vegetarian or even combine it with another dish as a side dish.
Regional Variations of Tavce Gravce Recipe
Macedonians are not the only Orthodox Christians on the Balkan Peninsula. That's why this dish became very popular in neighboring Serbia, Bosnia and Herzegovina, parts of Greece, and even in Croatia where the majority of the population are Catholics. In different countries, you'll find this dish under different names such as pasulj/tavce na gravce (Serbia), grah (Bosnia and Herzegovina), prebranac (Croatia), fasoulotavas (Greece), etc.
Enjoying this post? Then you ought to check out our post dedicated to Serbian food.
A Few Final Words
Even though this is a vegetarian dish, you should be careful about the amount you'll eat (even though once you try it, this might seem difficult). Tavce Gravce contains around 300-350 calories per portion.
Yield: 4 Servings
Tavce Gravce Recipe
Did you ever hear about Macedonian cuisine? If not, there's no better way to learn about it then the Tavce Gravce recipe- Macedonia's national dish (it's 100% vegan)!
Total Time
3 hours
15 minutes
Ingredients
4 cups of beans, washed and cleaned
5 Tablespoons of sunflower oil
3 Dried chili peppers
3 Tablespoons of red pepper (paprika)
2 Medium-size onions sliced into quarters
2 Cups of tomato sauce (preferably homemade)
½ Tablespoon of black pepper
1 Tablespoon of cumin
3 Cloves of garlic
3 bouillon cubes
5 bay leaves
Chopped parsley (garnish)
1 Fresh Pepper (garnish)
1 Small-size onion sliced into circles (for garnish)
Instructions
1. Pour the beans in a pot and soak them in water (about 2 inches above the beans). Let the beans soak for at least 2-3 hours.

2. Drain the water out, pour a new set of water (about 2x the volume of the beans), and add a tablespoon of sunflower oil.

3. Add four quartered onions, 3-4 dried chili peppers, 3 bouillon cubes, 5 bay leaves, and 1 tablespoon of red pepper into the water.

4. Cook the beans over medium heat
until soft, around 45-60 minutes if you previously soaked the beans or around 2 hours if you didn't.

5. Don't forget to keep checking on the beans, stir often, and keep adding warm water as the water evaporates. Aim for stew-like consistency.

5.1 Optional: If you have the time, turn the fire off and let the beans soak in the mix for
around an hour. This isn't a must but it makes the beans a lot softer and tastier.

6. Drain the beans and take out the leaves.

The next part of the process is to start preparing the roux.

7. Take out the Tava, soak it in sunflower oil and heat it up.

8. Add some red pepper (paprika) to the sunflower oil and mix until the oil and paprika combine.

9. Add finely chopped celery and smashed garlic cloves to the mix and preheat your oven to 190 °C.

10. Pour some tomato sauce and 1 tablespoon of salt to the beans, and mix. You should
get a light red/ orange color.

11. Take some of the water out and pour the beans in the Tava. You'll want to leave just
enough water to barely cover the beans.

12. Bake for one hour.

13. Add some fresh peppers (cut into half) and place them on top. Push them down so
they grill up evenly.

14. Increase the heat to 220 °C for 5 minutes.

15. Add sliced onions, dried peppers, and chopped parsley on top as garnish.

16. Let it cool off for 15 minutes before serving and enjoy your meal!
Notes
Goes well with white bread or for non-vegetarians, with pork ribs or sausage.
Nutrition Information:
Serving Size:

250 grams
Amount Per Serving:
Calories:

290
Total Fat:

7.3g
Saturated Fat:

0.9g
Trans Fat:

0g
Unsaturated Fat:

0g
Cholesterol:

0mg
Sodium:

436.8mg
Carbohydrates:

21.4g
Net Carbohydrates:

28 gramsg
Fiber:

4.9g
Sugar:

2.6g
Protein:

6.2g
A Few Things You Might Need For This Tavce Gravce Recipe
How did you like this tavce gravce recipe? Did you ever try this dish? Let us know in the comments!
If you're looking for some more Macedonian recipes, check out our shkembe chorba recipe.
Like it? Pin it!